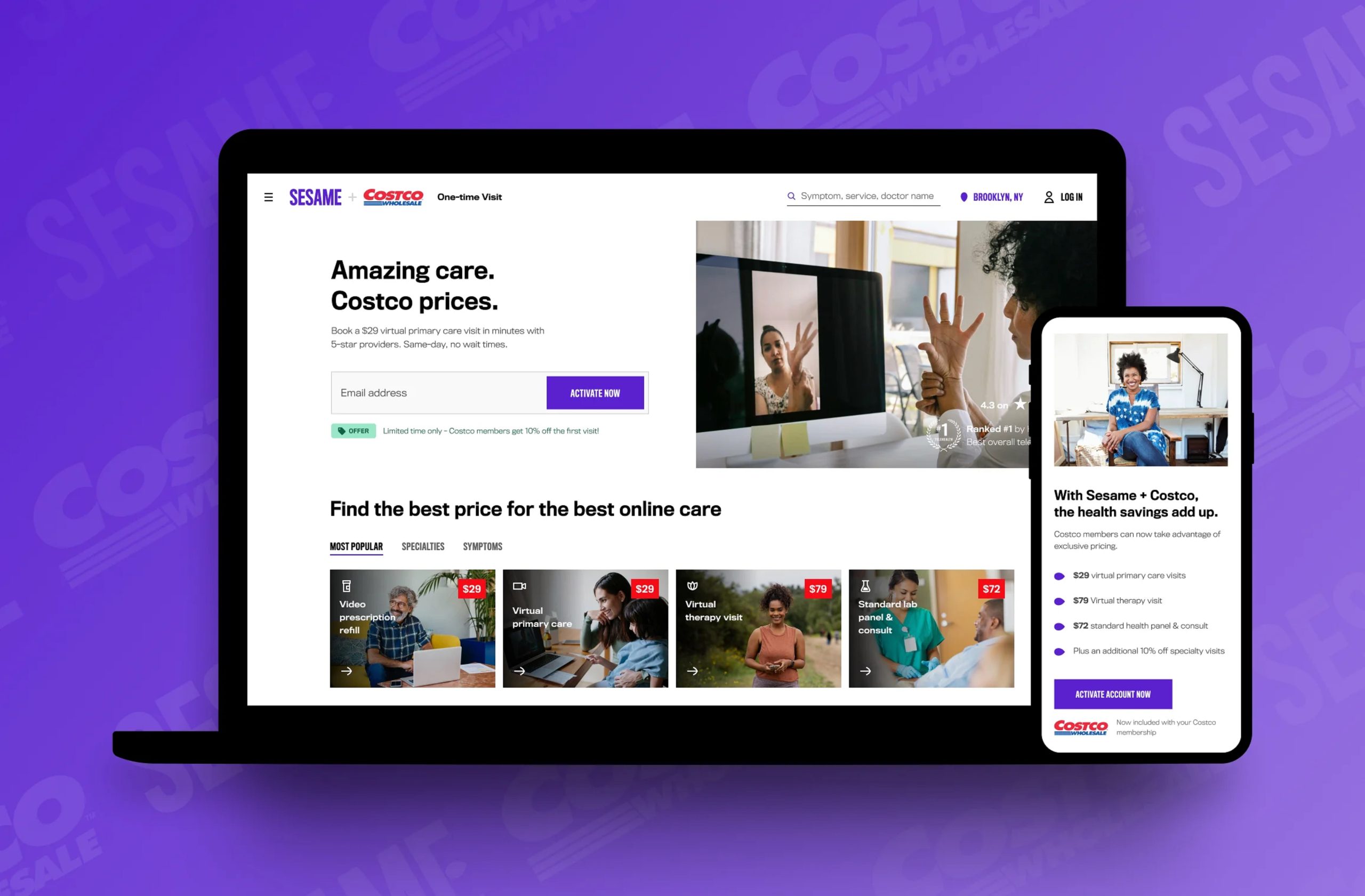 Costco has partnered with Sesame, a healthcare marketplace, to provide its members with discounted telehealth services. Members can access virtual primary care for $29, comprehensive health check-ups for $72, and virtual mental health therapy for $79. Additionally, they receive a 10% discount on all other Sesame services. This collaboration aims to expand healthcare access, with Costco's vast membership base benefiting from lower prices. The move follows a trend of retailers like Walmart and Hy-Vee embracing telehealth to meet evolving healthcare needs.
Costco is teaming up with the healthcare marketplace platform Sesame to offer its members a range of outpatient healthcare services at discounted rates. Through Sesame's online marketplace, Costco members will now have access to virtual visits and telemental healthcare services, all priced between $29 and $79.
Sesame's platform connects healthcare consumers with providers across various specialties, including dermatology, women's health, mental health, pediatrics, and urgent care. It even facilitates connections to prescribers and emergency department consultations, available for both in-person and telehealth appointments.
Under this new partnership, Costco members can avail themselves of virtual primary care for just $29, comprehensive health check-ups (including a standard lab panel and a virtual follow-up) for $72, and virtual mental health therapy for $79. Additionally, they can enjoy a 10 percent discount on all other Sesame services, whether in-person or virtual.
David Goldhill, co-founder and CEO of Sesame, emphasized the alignment of values between Costco and Sesame, stating, "Quality, great value, and low prices are what the Costco brand is known for. When it comes to healthcare, Sesame also delivers high quality and great value – all at a low price that will be appreciated by Costco Members for their care."
The primary aim of this collaboration is to broaden access to healthcare by offering these discounted rates. To access these services at reduced pricing, Costco members will need to create an account and verify their membership through their Costco account.
It's worth noting that Sesame does not accept insurance, a key factor contributing to its ability to maintain low prices, as mentioned in the company's blog post. Since its launch in 2020, Sesame claims to have reduced the cost of services offered through its marketplace by up to 67 percent.
Costco, a global retail giant with 861 warehouses across several countries, boasts a massive membership base, with 124.7 million members as of May 7. The company's recent financial statement revealed a steady increase in net sales, reflecting its robust financial performance.
With this partnership, Costco joins the ranks of retailers venturing into the telehealth space. Other notable examples include Walmart, which introduced a virtual care program focused on diabetes management through its national telehealth provider, MeMD, and Hy-Vee, Inc., which launched a telehealth platform in partnership with Reliant Immune Diagnostics' MDbox, enabling individuals to receive virtual health consultations and prescriptions by mail. These initiatives reflect a growing trend of retailers embracing telehealth to cater to the evolving healthcare needs of their customers.